This is a Sponsored post written by me on behalf of ANN INC. CAREERS. All opinions are 100% mine.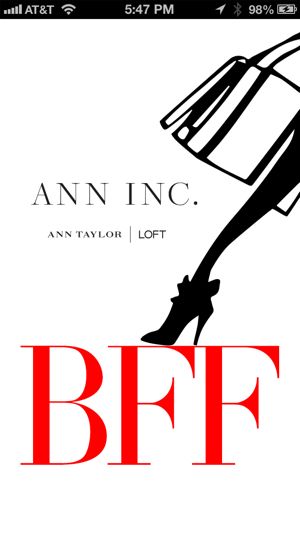 BFF (Best Foot Forward) is a new resource for women by ANN INC., creator of the Ann Taylor and LOFT brands. The app includes behind the scenes videos, inspirational quotes, interviews with ANN INC. employees and more.
In the Ideas & Insights section, several ANN INC. employees give interviews on topics that are important to them. CEO Kay Krill's thoughts on leadership was my favorite (and not just because I have the shirt she's wearing in her photo). Information about careers at ANN INC. is also available on the BFF app. I recommend that anyone interested in working the fashion industry browse through the careers section, especially the part about internships and intern experiences at the company. 
BFF also has a fun social aspect. Discover real style from other women by browsing photos from Trendspotters. If you want your style to be featured on the app, just use the hashtag #bfftrends when you share photos of yourself on Instagram.
ANN INC. is represented by two of the leading women's specialty retail fashion brands in North America: Ann Taylor and LOFT. Want to know more? Download the BFF app, which is available on both iTunes and Google Play.